Looking for a spelling curriculum that teaches the rules and not just word memorization? One that doesn't bore your kids and can easily be accomplished in short periods throughout the week? Let me introduce to you our favorite spelling curriculum, All About Spelling. Our family enjoys it so much that my kids even ask to do it!
All About Spelling Benefits
The curriculum claims it is, "the program that takes the struggle out of spelling." And for us, that has been the case. Some of the benefits include:
multi-sensory approach reaching visual, auditory and kinesthetic learners
step-by-step lesson plans that are easy to follow
built-in daily review of rules
easy to accomplish in a short period of time each day
can be modified or customized for each student
very economical!!
Whether your child needs to see words, write them, or manipulate the letters, they will find this curriculum enables them to spell well. The student will practice manipulating letter tiles, writing the words on paper, and listening to dictation.
The lesson plans are very user-friendly, even for novice teachers. Each level does not pertain to a specific grade, but to a level of mastery. Therefore, if your child is struggling with spelling, or you want to make sure they understand the rules better, you can start Level 1 in whatever grade they are currently in. You can even start mid-year. Then, just continue through all 7 levels at their own pace.
The review with each step really helps the kids remember what they are learning. Repetition is very important for mastery. The concept reviews can be as quick or long as you think your child needs. If they are getting it, move on. If not, take more time. But overall, you will find that the spelling lesson is short and to the point each day.
All About Spelling Materials
teacher manual
letter tiles (or app)
index card box with phonogram cards, sound cards, key cards, and word cards
notebook paper
stickers for progress chart (optional but super fun!)
The teacher manual is very well laid out, easy to follow and really takes the guesswork out of teaching spelling. The letter tiles are color-coded for vowels and consonants, as well as vowel teams and phonograms. The only item the student needs is lined notebook paper. We use a spiral bound notebook from our local dollar store.
The levels vary in price slightly, but the spelling kit ($22.95) is a one-time purchase that you will use throughout all the levels. Level 1 for the teacher manual and all the cards you will need, is only $29.95. For a placement test, and to find the cheapest price available online click here.
New for 2018! All About Spelling now offers a Letter Tiles App! This app is their way of making spelling and learning on the go so much easier. It really brings learning into the 21st Century. The letter tiles app:
Helps parents explain reading and spelling concepts clearly
Takes the place of the physical letter tiles and magnetic whiteboard
Displays tiles according to the level and lesson your child is currently on
Saves your place between sessions
Allows you to easily teach lessons "on the go"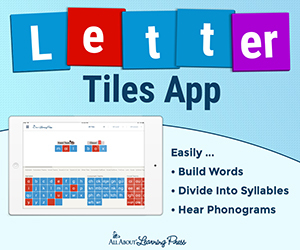 All About Spelling aims to benefit both teacher and student and this app is just one way they do so. It is on sale through Feb 9 for $14.99. After that, the price will go up to $19.99.
The Lesson Breakdown
Each lesson includes easy to follow steps, telling you exactly what to say, if needed. They start with a quick overview of the teaching concepts as well as what materials you will need for the day. There are also teaching tips interspersed throughout the lessons that help teachers if their students are struggling. Each step includes the following:
a review of previous lessons
a new teaching
spelling with tiles
spelling on paper
additional words dictated to reinforce concepts
phrase dictation
sentence dictation
sentence creation (level 4 and up)
Again, you can decide if your student is ready for a whole step in one sitting, can do more than one step in a day, or needs to break the step up into two different days or a whole week. Adjust the pace to your student. Each level builds on itself and requires more of the student, so you will find each step takes more time.
The program really is customizable. Go at the pace you feel is best for your child.
All About Spelling Cons
While we truly love this curriculum, there are always minor flaws in every curriculum out there. I find that the spelling with tiles is too repetitive (at least for the earlier levels) and not something that all students will need. So, if your child doesn't need this step, it might seem too tedious, just omit it!
Also, the words at Level 1 are very basic. It would be great for Kindergarten. However, if you are using it with an older child, the words seem very simple. In this case, remind your child that it is meant for learning the spelling rules. And move through them quickly.
Online Helps
This curriculum also has great online tools to help you as well including reports, printables, activities, and apps. It is so comprehensive and accommodates all teaching styles. They also have a reading program that can be done alongside the spelling curriculum but is not necessary if you have another reading program you enjoy. If you would like access to a FREE e-book which includes tips on teaching reading or spelling, click the image below.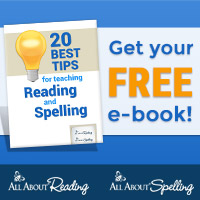 I hope you have benefitted from this All About Spelling review. Feel free to leave a comment, question, or your own review in the comments below. I would love to hear from you!
Other reviews that might interest you:
Take heart,
Katie
Subscribe to my email list for more helpful homeschooling info, a list of over 80 read-aloud books, and access to my freebies library.