Life is full. You are exhausted. You need a little creativity and fun to spice up your school days…but you just don't have the strength to muster something up at the moment. Or maybe being crafty doesn't come naturally to you. You intend to do some fun crafts with your preschooler, but they just seem to get pushed to the back burner. Take heart, there are great resources available to you! This fun-filled ABC craft series you can start today for free.
I am pleased to share this wonderful opportunity with you. You will go on a 26-week animal adventure with your kiddo. Together you will make an easy-to-assemble animal craft for every letter of the alphabet.
And don't worry. You won't need to buy any random supplies. All you need are simple materials you most likely already have at home.
I know you are a busy momma. With this craft series, your kids will have fun, they will be learning, and your tired mind won't have to reinvent the wheel! Afterall, preschool should be fun for both mom and kiddo, right?!
What You Will Get with the ABC Craft Series:
Complete instructions and templates for each letter of the alphabet
Easy tips on how to incorporate pre-reading skills into craft time
Short, simple videos to show you how each craft is done to take the guesswork out of it!
Fun memories shared with your preschooler
And no headaches or stress
When you are finished, you can turn your crafts into an entire ABC animal letter book that will be a memorable keepsake.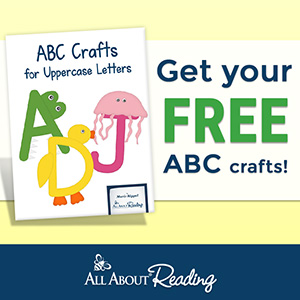 To join the ABC Craft adventure, click here.
Below are some additional fun (and mostly FREE) resources for preschool moms. Having quality educational materials at your fingertips can make any busy momma feel like she can tackle the day. These activities and programs will start your kids' school experience off on the right foot – they will enjoy learning and it will become a natural part of everyday life. Plus, you will feel well equipped as an educator, confident that you have what it takes to teach your children well!
I would love to hear how your ABC animal letter books turn out – leave a comment below!
Take heart!